Matterport
Virtual tours > Matterport 3D
A Virtual Tour made using Matterport Technology is the newest 3D immersive viewing system with a wide range of applications.
It is the most modern 3D visualization technology used to create a Highly Advanced Digital tour of businesses , property , hotels etc.
What is a Virtual tour using the Matterport 3D system?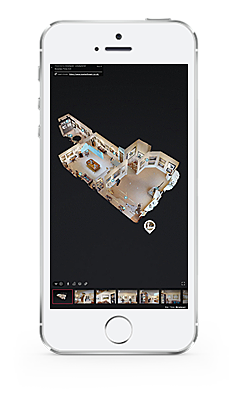 A Matterport Virtual tour provides a realistic and detailed mapping of the space that you have prepared for your guests / clients, thus creating the opportunity to interact with the interior of your property before they visit.

The ability of easily navigating using digital visualization, gives the customer the opportunity to take a real perspective, which means that the connection between the consumer and a physical visit to your business becomes "Barrier Free".

A very detailed 3D Panorama improves your website traffic and SEO. Visitors spend more time online and shop more willingly.

A virtual walk allows the client to become more familiar with your offers, and at the same time makes the decision to visit and use your services much more attractive and likely.
Immersive tour
The 3D object presentation guarantees an extraordinary experience thanks to the interactive interior or "Dollshouse View" and "Seperate Floors View"
Dimensioning
Take measurements directly from the 3D space without visiting the premises.
Tags - information points
Add tags in your 3D Virtual tour so that the customer can find them during their trip and take advantage of unique promotions, discount vouchers, special offers and promotional campaigns etc
Versatility
Matterport Technology allows you to create dedicated interactive panoramas that you can share on social media and access via visualizations using VR goggles.
Space planning
Generate floor plans of your business space with a single click.
We offer many options tailored to your requirements, we work with with travel agencies, estate agents, shopping centres, galleries, independent shops, service outlets and also with private clients. We are happy to undertake new projects, no matter how large or small the area of your property.
As an original and unique Company we offer the possibility of adding an unlimited number of markers (Info-Tags) to your virtual tour, and we grant access to the platform, where you will be able to use many additional options and edit items yourself.
Check our package details and what we offer by visiting our website and platform
Bespoke business packages uniquely
tailored to your requirements
---
Large properties
Has your company just completed a new investment project?
Cutting-edge technology? Or maybe the introduction of new products available "off-the-shelf" for your customers.
Only you know your true client base.
Airports, business centres, shopping centres, offices, medical centres, pubs and restaurants?
Using the latest "3D Virtual Tour Photography" we can create a bespoke "Virtual Walking Tour" of your business showing your full POTENTIAL to both competitors and clients.
Read more
Real estate agencies
Property for sale and various interiors presented using 3D Technology are more than just a simple panorama, they are real, actual images combined to create a "Virtual Walking Tour" of a given property.
Digital visualization is interactive and intuitive navigation and allowing the Client to "Walk and Move" through and around virtual properties.
Read more
Periodic refreshment
To meet the expectations of our customers, we have created a periodic refreshment of our photographic services.
Many industries, appreciating the advantages of virtual travel and tours, invite their customers to explore the interior of their business / premises, the atmosphere and the full range of what they have to offer.
We have prepared a unique subscription service for these customers.
Read more
Unusual
If the business you would like to present is not on our list?
If your business is mainly outside or in the open air?
If you are the owner of a camping site, campervan site, or a golf course.
We can also take pictures in the evening or at night, or we can always
together to find the most positive solution.
Contact us to find the best way forward for your business.
Tourist and accommodation facilities
The tourism industry is one of the fastest growing on the market, representatives of this industry are most willing to implement innovative solutions to help Customers reach their promotions and offers.

Using Matterport 3D Technology, we will help you reach an even larger group of recipients, and travelers to get to know your facilities and feel the atmosphere in your property / hotel before setting off.
Read more
Restaurants and wedding venues
It is now well known that customers are encouraged to spend time in a given premises with a unique atmosphere that will allow your clients to relax, breathe and take a break from the hustle and bustle of modern everyday life…
Thanks to "Matterport 3D Technology" you have the opportunity to show your full interior space and via pop-up "Information Points" located on and around the virtual tour, you can describe in detail your products and offers etc.
"Information Points" allow you to place links to the available menu, a link to book a table, or even a video link to showcase function rooms for hire etc.
Read more
Trusted by 2405 customers